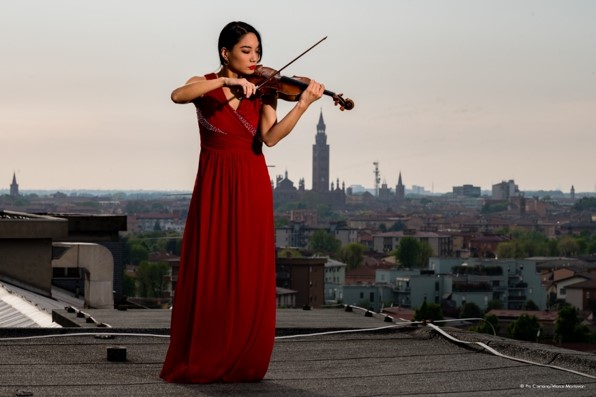 Born in Osaka, Japan, Lena Yokoyama started her musical education with her father Kango Yokoyama continuing then with her mother Reiko Shimitzu. She moved to Italy in 2006, where on February 2011 she graduated with honor in violin at the "Claudio Monteverdi" Musical Institute in Cremona. From 2011, she attends to Salvatore Accardo's classes at the Accademia di Alto Perfezionamento Walter Stauffer in Cremona.
She improved her musical education in chamber music with Alexander Lonquich and in solo repertoire with Salvatore Accardo at the "Accademia Chigiana" in Siena, with Chaim Taub in Bruxelles and Ivan Rabaglia (Trio di Parma) at the "S. Cecilia Academy" in Portogruaro.
She plays for public auditions the prestigious violins (built by Stradivari, Guarneri, Amati and others historical lute makers) preserved in the new Museo del Violino in Cremona from 2013.
She teaches chamber music at the "C. Monteverdi" Musical Institute in Cremona.
In 2012 she founded together with Diego Maccagnola (piano) and Alessandro Copia (cello) the Trio Kanon. They started their chamber music experience building their repertoire under the guide of the Trio di Parma (Miodini, Rabaglia, Bronzi) at the International Chamber Music Academy in Duino.
Awarded in many national and international competitions.
Trio Kanon won the 1st Prize, the Audience Prize and the Special Prize for the best Brahms at the International Chamber Music Competition Pinerolo & Torino 2018, was the best group in the Trondheim International Chamber Music Academy for Piano Trios 2014 and in 2015 won the "Chamber Music Award", sponsored by the Haydn institute and the "University of Music and Performing Arts" in Vienna, as best chamber music group at the "Internationale Sommer Akademie Prag-Wien-Budapest".
Recent concert appearances have been at the Teatro La Fenice in Venice, the Teatro Verdi in Trieste, the Teatro Vittoria in Turin, the new "Arvedi" Auditorium in Cremona, Palazzo Ducale and Palazzo Te in Mantova during the "Mantova Chamber Music Festival", the Portogruaro Festival, Bologna Festival, Società Filarmonica di Trento and abroad in United Kingdom, Norway, Japan, China, Croatia, Austria and United States with great success in public and critics.
In March 2019 the Trio Kanon has been invited to perform at the Cappella Paolina of Quirinale in Rome and the entire concert has been broadcast live on RAI Radio 3.
They recorded for prestigious review "Amadeus" and "Movimento Classical" label music by L. v. Beethoven, for "Warner Music Italy" label music by A. Dvořák and J. Brahms.
She plays a violin made by J.C. Gigli in 1752 and Eva & Christo Marino del 2015.